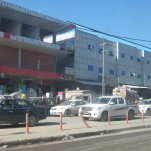 Basra is suffering a water quality crisis with a reported 18,000 people hospitalised. Iraq Oil Report has published an article on this topic and included a photograph of the riverbank of the Shatt Al-Arab Waterway taken by EAME.
https://www.iraqoilreport.com/news/basra-calls-on-oil-companies-to-solve-water-crisis-32473/
EAME is an environmental consultancy operating in Iraq since 2010. EAME provides a range of services which allows for international funders, developers, oil companies and Export Credit Agencies to manage their environmental and social risks in such a challenging environment.